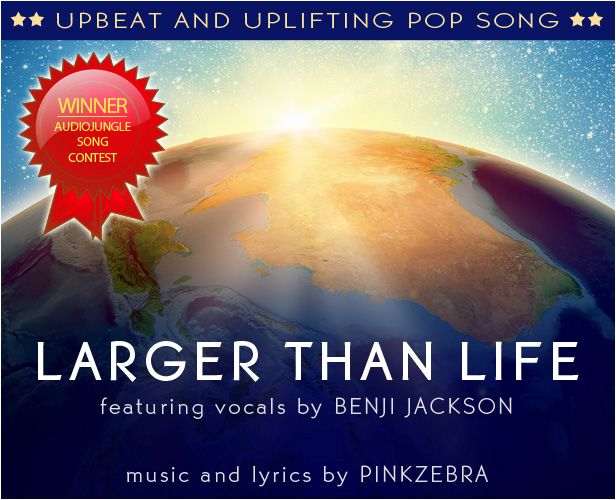 5 versions! – Full song, instrumental, two :60's and one :30
An upbeat, uplifting and fun pop vocal song featuring a pulsing, energetic groove, motivational lyrics about aspirations and accomplishments, and catchy melodies. This song is about thrill of chasing your dreams and the desire to achieve all you ever wanted.
Perfect for commercials, sports montages, corporate videos, YouTube videos, films, TV, and any projects that need a triumphant, energetic music track with positive life messages.
This song features the soaring and spectacular vocals of fellow AudioJungle author, Benji Jackson. Thanks, Benji – you rock, dude! You can hear music from his portfolio here.
For added flexibility both the full song and instrumental versions are included with your purchase. Also included are two different :60 edited versions and one :30 version that fit perfectly with the yocreative VideoHive item, "Larger Than Life". In the preview file, the instrumental version begins at 2:34, :60 v1 begins at 5:10, :60 v2 begins at 6:12, and the :30 edit begins at 7:13.
Files included in the zip:
Larger Than Life (2:35), WAV and mp3
Larger Than Life – instrumental (2:35), WAV and mp3
Larger Than Life 60 v1 (1:00), WAV and mp3
Larger Than Life 60 v2 (1:00), WAV and mp3
Larger Than Life 30 (0:30), WAV and mp3

To find similar music follow these tags:





Lyrics
Here's your story, let's begin
The water's fine, come on dive in
The future's here, it's right before your eyes
Step by step you're on your way
Welcome to a brighter day
Don't you know, it feels good to be alive
You could be larger than life
Bigger than the world
Living out the hopes and dreams
Of every boy and every girl
You could fly higher than the sky
Shine brighter than the stars
You could have all you ever wanted
Shoot the moon and reach for Mars
You know you could
Time's are changing everywhere
Do we dream, and do we dare
It's up to you, the door is open wide
Feel the rhythm of today
Learn the part and join the play
The world is here, let's take it for a ride
You could be larger than life
Bigger than the world
Living out the hopes and dreams
Of every boy and every girl
You could fly higher than the sky
Shine brighter than the stars
You could have all you ever wanted
Shoot the moon and reach for Mars
You know you could
Larger, larger than
Bigger, bigger than
Living, hopes and dreams
Every boy and girl
Higher, higher than
Brighter, brighter than
All you wanted and
You know
You could be larger than life
Bigger than the world
Living out the hopes and dreams
Of every boy and every girl
You could fly higher than the sky
Shine brighter than the stars
You could have all you ever wanted
Shoot the moon and reach for Mars
You know you could
Related marketplace items using this track:

Web and social media links
Attention all VideoHive authors:
You may use any of my preview tracks for your projects provided you give my music track a link in your description (like "featuring the music track 'Keys to Success' by pinkzebra"). Also, please send me an email to let me know about your item so that I can include links to your item in my profile and item descriptions to help promote your project. Thanks! ~pinkzebra
2502 sales
as of September 28, 2015
| | |
| --- | --- |
| Last Update | September 26, 2015, 2:36 pm |
| Looped Audio | No |
| Vocals | Lead Vocals, Background Vocals/Harmonies, Instrumental Version Included |
| Bit Rate | 320 kbps |
| Sample Rate | 16-Bit Stereo, 44.1 kHz |
| 1 | 00 |
| Tempo (BPM) | 197 |
| YouTube Content ID Registered | No |