Want to see how others used this song? Scroll down to the "SEE THIS SONG IN ACTION!" section below!
Elevate YOUR Project To The Next Level!
Pumped up, catchy, simple, and tons of fun! "Rock The Party" is the perfect energetic, feel good, summer indie rock hit designed to bring life to your project!
This track is perfect if you want your audience to be pumped up, smiling, dancing and feeling great from the first moment!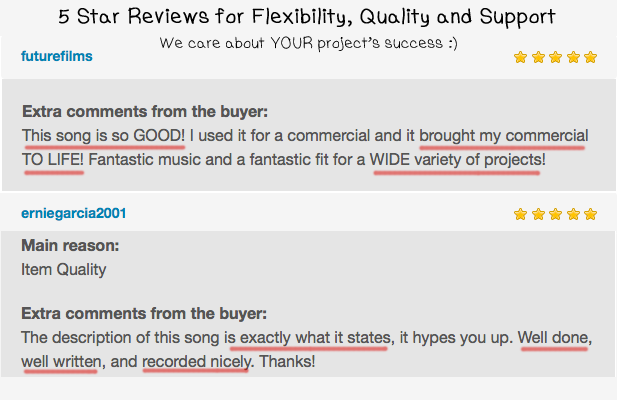 INCLUDED VERSIONS
This song is highly versatile, so we wanted to make sure you could easily fit this into whatever awesome project you're working on. That's why we included several versions all in their highest WAV quality so you can easily use or arrange the track however you need.
-FULL VOCAL HOOK VERSION: [3:10]
-INSTRUMENTAL [3:10] (Preview at 3:10)
-BUILD, HOOK, OUTRO "SHORT CUT" VERSION [1:07] (Preview at 6:20)
-CHORUS LOOP [0:13] (Preview at 0:56 – 1:09)
-CHORUS LOOP INSTRUMENTAL [0:13] (Preview at 3:26 – 3:39)
WHAT'S IN THIS TRACK?
This track was designed with your success in mind!
-Beginning with the simple, feel good, catchy vocal hook that will be caught in your listeners head for days.
-Just as important as the crisp vocal is the clean yet driving rock guitars
-The thick, grooving bass
-The powerful, energized drums. (And did you notice the small electronic elements that up the energy and bring this from simple rock to modern powerhouse?)
-These elements all come together to form a friendly, uplifting and energized track.
SEE THIS SONG IN ACTION!
See for yourself how "Rock The Party" sets the perfect mood in these presentations and commercials from customers like you and Elite Envato Authors:
See how the taxi giant UBER uses "Rock The Party" to set the perfect, fun mood for their commercial: https://www.youtube.com/watch?v=k0zDosNRqJY
Buyer "Future Films": https://www.youtube.com/watch?v=8iqF0pGoUv8
Elite Author 3uma: http://videohive.net/item/shape-elements-pack/11317478
Envato Hall of Famer DiegoMirnov: http://videohive.net/item/up/11381292
Watch this quick and beautiful fashion slideshow from Envato user EquinoxCG that shows how Rock The Party can provide the perfect feel even for short projects: http://videohive.net/item/quick-opener-fashion-slideshow/11588733
Buyer Amigo Production's new, slick promotional presentation: https://www.youtube.com/watch?v=EzWVsA42yTM
Envato Hall of Famer "rigsmotion": http://videohive.net/item/app-promo-kit/11512952
Need MORE ROCK POWER?
Grab this song along with 3 of our other bestselling rock tracks in our "Rock Power Pack" today and save $$$! http://audiojungle.net/item/rock-power-pack/12759296
SUPPORT
If you have any questions or requests at all, we warmly invite you to use the contact form on our AJ profile. We are here to help your project "ROCK THE PARTY!" 😉
VIDEOHIVE AUTHORS:
You are more than welcome to use any of our preview tracks in your videos. Include a link back to our song, and we will happily update our description with a link to your item. All of us are part of this wonderful, creative community!